ALUKOV PATIO & POOL ENCLOSURES BENEFITS
TOP QUALITY

You can be sure of receiving the very highest quality products from our multi-award winning range of patio and pool enclosures. Their innovative design and high functionality has been endorsed by experts worldwide.

RELIABILITY

Our swimming pool enclosures and patio enclosures stand the test of time, as we only use extremely durable, high quality materials in our construction. So sure are we of their durability, that we offer up to a 15 year warranty.

EASY CONTROL

Turn your outdoor pool into an indoor pool with one of our industry-leading enclosures, which can be opened and closed with ease, thanks to our intuitive and unique rail system.

SAFETY

Our pool and patio enclosures don't just look great, but also have built-in security features that allow them to be safely locked against unauthorised entry for your peace of mind and safety.

HELPFUL STAFF

Customer satisfaction is at the very forefront of everything we do. Our friendly staff take the time to fully explore customer requirements to ensure that a perfectly tailored solution, that meets all of those needs, is delivered.

VARIABILITY

Say goodbye to the weather dictating to you when you are able to use your pool or patio. Feel like swimming or having a barbecue on a rainy day? Our enclosures will allow you to, as they are versatile and can be opened or closed to suit any type of weather.

LONGTERM SERVICE

Our customer-focused approach does not end after delivery and installation. We pride ourselves on the longevity of our client relationships. From first point of contact right through to post-installation aftercare, you will feel valued and looked after.

DESIGN

The designs of our award-winning enclosures are based on the latest architectural trends. We offer bespoke solutions that take every feature of your garden into consideration to create the perfect enclosure for your needs.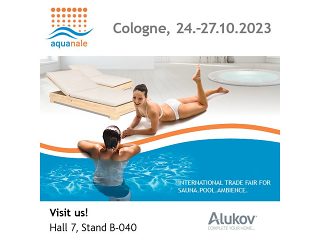 27. 09. 2023
We extend a warm invitation for you to join us at AQUANALE 2023, taking place from October 24th to 27th in Cologne. Find us at HALLE 7, BOOTH B-040 / C-041.
\