Chris & Barbara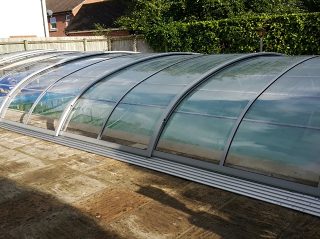 Retractable pool enclosure
We just wanted to let you know how pleased we are with our new pool enclosure that was delivered and expertly installed yesterday.
Pablo, Justin and the local contracted helpers did a fantastic job assembling the scaffolding, unloading the lorry and lifting the enclosure over our garage roof and down our garden, which was obviously a very delicate and difficult job but everybody was so careful in ensuring that no damage to the enclosure or our property occurred. Once that the arches were installed on the tracks the local team left at about 1.00pm leaving Pablo and Justin to spend several hours completing the installation despite several downpours.
Thank you for the advice and help you gave us when you visited us and for keeping to your original delivery date. We know that we made the right decision to buy from Alukov.
Please pass on our thanks to everybody concerned including the team at the factory, we are so impressed with the overall quality of the enclosure.
Kind regards
Chris & Barbara (Makepeace)