Spatex 2019, Ericsson Exhibition Hall, Ricoh Arena, Coventry, CV6 6GE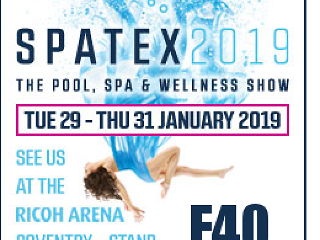 Spatex logo
Dear customers,
We are glad to announce that we will be exhibiting at the Spatex 2019 from January 29th to 31st 2019 in Ericsson Exhibition Hall, Ricoh Arena, Coventry, CV6 6GE.
Alukov UK and Alukov Czech Republic will be introducing Smart Delivery Program - smart, quick and modern method of distribution of ALUKOV pool enclosures. The innovation lies in the way of how pool enclosures are distributed – the enclosure arrive already assembled a ready for fitting. This method guarantees high-quality production process in the production plant compared to disassembled enclosures where the final assembly is done in an unsuitable outdoor environment, often by unskilled employees.

Visit our stand F40 to see what products and services we have to offer. We will be happy to discuss your projects, offer advice as well as provide you with price quotes.
BE INSPIRED, GET ADVICE and join us at this show
Alukov Team