The jewel of your garden
Pergola SPA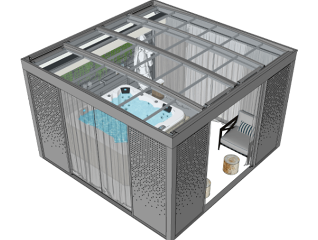 Alukov has been designing and manufacturing custom-made patio enclosures for more than 27 years. Based on our experience with designing and constructing patio enclosures, we created a unique enclosure with a transparent opening roof where everyone finds their own space, where they can turn their dreams into reality.
PERGOLA SPA shifts the concept of recreational gazebos, meets the several independent systems' requirements for the regulation of the sun's rays. Remote control is a matter of course. Pergola SPA is a timeless and well-considered system that offers you all benefits associated with multifunctional bioclimatic pergolas. The unique construction of the roof, the effective shading system installed in the roof, the great choice of shading and decorative systems placed in the vertical walls will allow you to create a cozy space that will suit even the most demanding needs and personal tastes. Enjoy real peace and quiet in your garden. Pergola SPA will be the real jewel of your garden.
We produce PERGOLA SPA tailored to your needs, the maximum dimensions are: width 5 m, depth 4 m, height 2.5 m.