Modern in every detail
Pool enclosure Terra Prime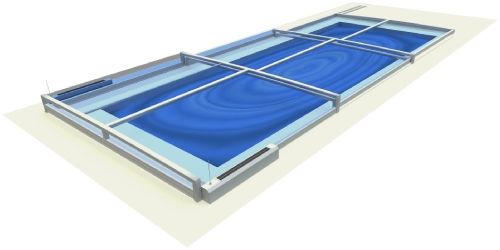 TERRA PRIME builds on the proven and very popular model of TERRA ultra-low pool enclosure. Its height is still the lowest custom-made enclosure in the market. TERRA PRIME has been specially developed for comfortably sliding with electric motors and for even more intense rails-free feeling.
For safe movement of individual parts of the enclosure, the system is equipped with short, inconspicuous guide rails only under the smallest segment and in the parking area for the enclosure, behind the pool. The surrounding of the pool area remains free. TERRA PRIME enclosure is characterized as flat, therefore it is suitable for the architecturally clean style of your home and is very well proven in smaller gardens where the view is a priority.
TERRA PRIME fulfills the certification of snow load and wind resistance, making it an indispensable helper over your pool. Although you can hardly see the roof, you can count on it.
Color of construction
| | | | |
| --- | --- | --- | --- |
| | | | |
| Silver | White | Antracit | Bronze |
Other colors according to customer
Color of polycarbonate
Color of sliding rails
Swimming pool enclosure TERRA PRIME is always supplied without the possibility of having an entrance door to the pool. This is due to its low height. This type of enclosure is not intended for use in a closed position.