Invisible helper
Pool enclosure Terra™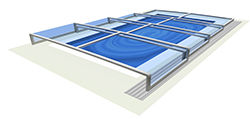 As the only company who sell this model of enclosure we offer long-term active after-sales service of our pool and patio enclosures. Enjoy a comprehensive range of benefits that no other manufacturer can offer.
TERRA is the lowest pool enclosure from Alukov product range that almost copies the ground level. In closed position it lets you enjoy full view over your garden and swimming pool. While opened the pool enclosure is decent, not space demanding enclosure that suits modern home architecture. Those who look for almost inivisible enclosure yet want to have visible pool enclosure benefits such as protection of water against debris, water temperature regulation and protection againt unwilling fall into pool will appreciate this pool enclosure.
One rail system of pool enclosure Terra grants access without barriers from three sides of swimming pool, is space-savvy and easy to maintain. It is very easy to open or close the enclosure - even with one rail. It is a standard for all Alukov pool encloures - highest safety, custom made enclosure for every pool. The same you can expect from Terra.
Pool enclosure Terra - have your pool under control and let Terra blend in with your garden !
Color of construction
| | | | |
| --- | --- | --- | --- |
| | | | |
| Silver | White | Antracit | Antique Brown |
Other colors according to customer
Color of polycarbonate
Color of sliding rails
Swimming pool enclosure TERRA is always supplied without the possibility of having an entrance door to the pool. This is due to its low height. This type of enclosure is not intended for use in a closed position.