John Greene, Peacehaven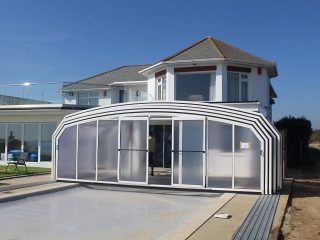 John Greene - Peacehaven
Bought pool enclosure Oceanic High.
"The telescopic cover looks fantastic and we are very pleased with the final outcome."
Pre-order – odsud do textu reference
I first contacted Alukov (i think I was referred by Poolstore.com) in the summer of 2017 nearly 2 years prior to installation. I had many questions which were always handled in an informed, professional and timely manner by Ivana, many of which were specific to the needs of my project e.g. a very windy coastal location covering an external pool.
Ivana then provided me with indicative costs of various types of enclosure and remained in contact with me throughout the planning permission phase of my project which I received in late summer of 2018. I found this information very useful in formalising my thoughts i.e. to gauge what might be possible with my budget. I had a large number of possibilities in my mind and Ivana was always polite and really helped me with my requests. A site visit was then arranged for September 2018 with Pablo and Ivana attending.
Design and engineering
The meeting with Pablo and Ivana went very well. I had been talking to a small number of alternative suppliers but the only one to really 'get' what I was looking for from an engineering and design perspective was Pablo.
The telescopic cover I wanted had to be bespoke and attach to the overhanging soffit of the main building, open at one end for direct entry into the house. We had a number of meetings/emails/phone calls to arrive at a final draft design and a price before the final order was made.
I would like Alukov management to know that it was at this stage that Pablo distinguished himself and ultimately sealed the final decision to go with Alukov. His knowledge, patience and understanding of my project were excellent and was the significant differentiator against alternative suppliers.
After the cover was ordered, a director of the company: Mrs Alzbeta Murray came to do a site visit which I appreciated as it showed management commitment to the project which is always valuable.
The installation date was initially delayed by about 5 weeks. I was told that this was due to issues at the factory. I spoke to Ivana about this and how this would have a negative impact on my project as I had arranged to have other work completed which depended on an installation date within the 10 weeks that I had been told when I made the order.
To Ivana's credit, she managed to bring the date forward by 3 weeks which then fitted the 10 week timescale and I appreciate the time and effort she took to re-arrange this date.
There was another small delay on the implementation date as the lorry carrying the enclosure was involved in an accident in Germany. These things are unavoidable and thankfully the people involved sustained no injuries but importantly Ivana again kept me informed throughout and re-arranged the installation a couple of days later which also meant some logistical issues e,g., getting sufficient men to carry the enclosure off the lorry. I felt that Pablo and Ivana went the extra yard to facilitate this with Pablo even getting his son and 2 of his friends to help with the work.
Installation
Ondrej and Petr did an excellent job installing the telescopic cover. They arrived early and on time both mornings and worked hard all day (both days) to complete their work to a high standard. I was impressed with their professionalism and work ethic and sincerely thank them for their efforts. In terms of one area of improvement I would suggest that when they are cutting the panels down to size that they put a sheet underneath their work to gather up the thousands of tiny fragments that get sprayed around as a result of the cutting. Although they tidied up all their work afterwards to a high standard, the tiny shards were easily dispersed and some may have not been picked up by a hoover.
Pablo also attended the installation on both days, helping Ondrej and Petr throughout, which again I thought was very good as Pablo understood the whole concept, and the engineering and design characteristics better than anyone else
Summary
The telescopic cover looks fantastic and we are very pleased with the final outcome. The segments run very smoothly on the rails enabling them to be pushed or pulled easily into place. This would not have been possible without the commitment of Pablo who foresaw issues, understood what was possible and had the patience to explain this carefully to fit my objectives. I sincerely thank Pablo for this and for his and Ivanas help throughout the last 2 years.
I would be very happy if this installation is used in your marketing literature or should wish to show my cover to potential customers.
Best regards
John Greene