Why do you need a pool or patio enclosure?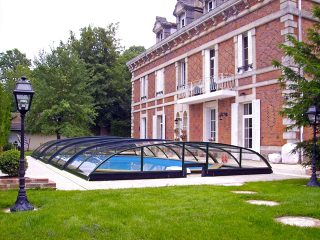 Pool enclosure Elegant NEO
Have you bought a beautiful and spacious pool, but are disappointed that you can swim and have fun in it only a few months a year? Have you designed a beautiful patio in front of your home that is the perfect place to relax and unwind, but as soon as it gets cold you have to leave it and stay inside? Don't let the weather outside limit you. Buy a quality pool or patio enclosure and enjoy your home all year round!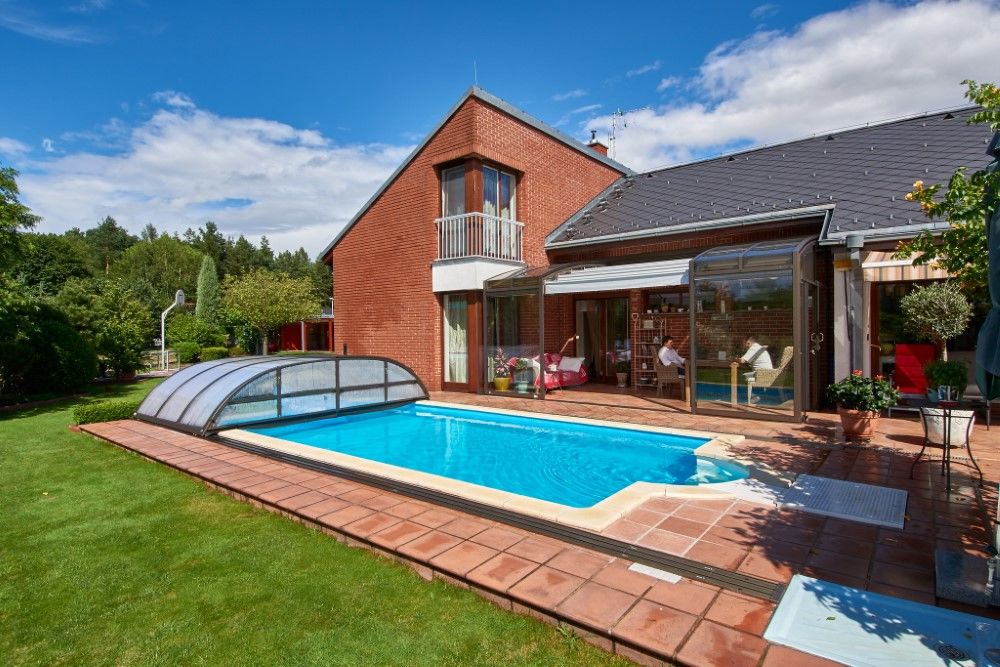 You can use the pool or patio almost all year round
Why have a place at home that you rarely use? With an enclosure, you get a space that you can use no matter what the weather is outside. Do you own a pool? With a pool enclosure, you can swim in your pool whenever you want. You also get a nice place to relax and extend your swimming season significantly. Do you own a porch? Let the sun's rays shine on your porch even in the winter season and warm it up nicely.
Bad weather will no longer limit you
Even in summer there are cloudy and rainy days. But thanks to an enclosure, you will no longer be limited by weather conditions. In fact, you will be pleasantly surprised how interesting and relaxing it can be to sit on a enclosed patio in the rain. Raindrops will drum on the patio enclosure, torrents will run down the sides, but you will sit dry, comfortable and cozy in the comfort of your enclosed patio. You might call it "acoustic therapy."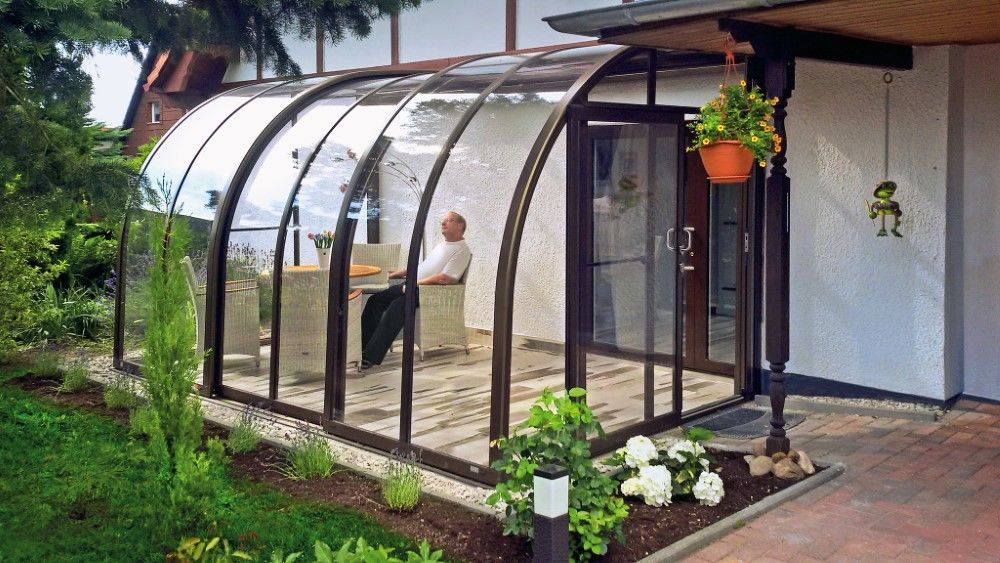 Safety first!
Fun in the pool is great, but safety always comes first. A pool enclosure means you have a safe place to swim. A pool enclosure prevents children or pets from using the pool without your knowledge, or even accidentally falling in when you're not around. Pool enclosures also reduce debris that can fall into your pool, such as leaves in the fall, saving you a lot of time and hassle. We're sure you'll find many better ways to spend your free time than cleaning the water.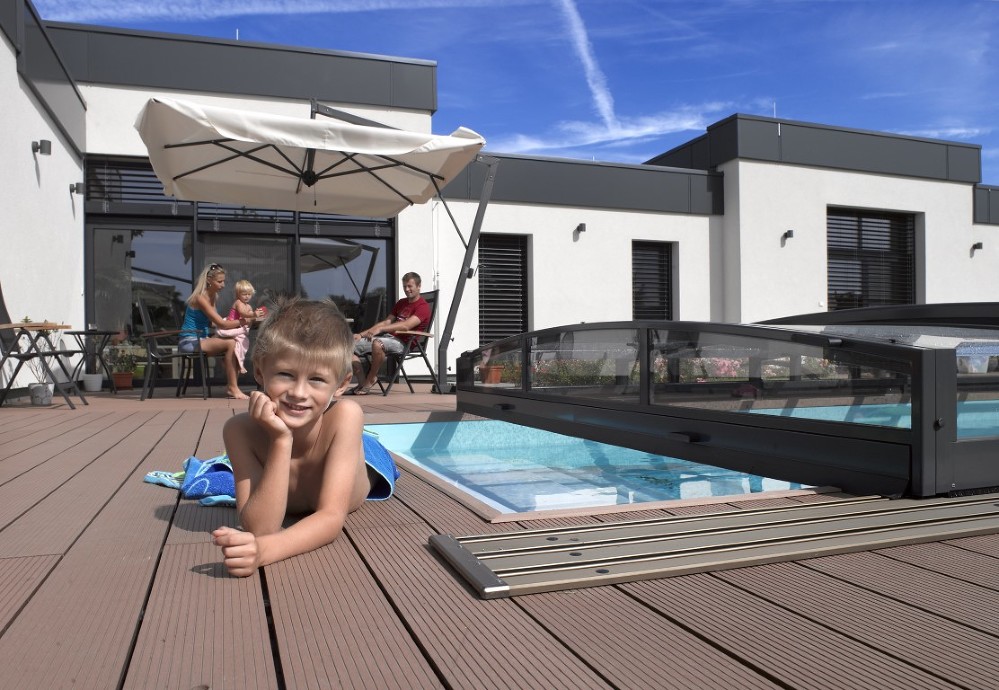 Save some money
It is much easier to control the water temperature when the pool is covered, even without additional heating. The pool enclosure with polycarbonate filling creates a greenhouse effect, where the air inside the enclosure is heated and so is the water. By enclosing the pool, you reduce heat loss and can save a lot of money. If you have a pool heater, you won't have to use it as often either, saving you additional money. The situation is similar with a enclosed patio. The patio has a comfortable climate and you can even transfer the heat to the house. When it gets too hot on the patio, you simply open the patio enclosure or move one of the segments of the patio enclosure and ventilate it. By combining it with the integrated shading system, you can optimally regulate the temperature and sunlight.
No need to move furniture
Have you ever experienced how pleasant it is to be able to leave your furniture where it belongs all year round? When you choose the right height for your pool enclosure, you create a relaxation zone around your pool where you can leave lounge chairs, tables and other pool equipment all year round. You won't have to keep moving them around or storing them elsewhere in your home, garage, etc. This is similar to furnishing your patio. All the furniture is always at your disposal and also protected from rain and snow.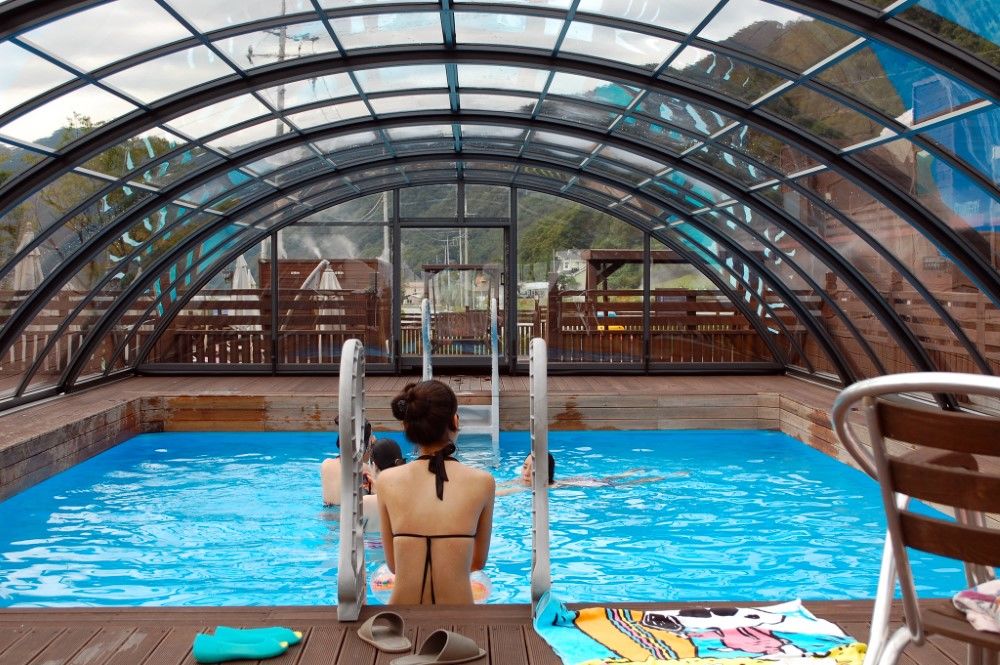 Increase the value of your property
Any of our pool or patio enclosure models will increase the value of your property. If you ever decide to sell or rent your home, the value will also increase thanks to the enclosure. Even if you don't sell, you'll save a lot of money on heating costs in the long run, so it's a good investment either way.
More privacy
Sometimes you just want to relax or chat with friends in peace without being disturbed or disturbing anyone. Or maybe you're planning a party, listening to music, etc. A pool or patio enclosure gives you more privacy exactly when you need it. This way, you can enjoy your free time with your loved ones and spend it only with them.
As you can see, an enclosure really brings many benefits - you protect your children and pets, save money, increase the value of your property, etc.... Take a closer look at the different ALUKOV enclosures models and see if one suits you.