Enter the comfort
Patio enclosure CORSO Entry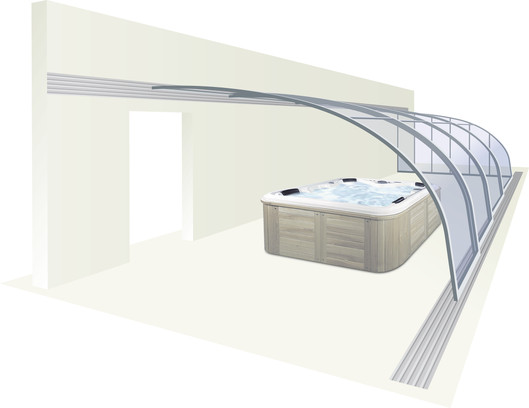 As the only company who sell this model of enclosure we offer long-term active after-sales service of our pool, patio and hot tub enclosures. Enjoy a comprehensive range of benefits that no other manufacturer can offer.
This entry level retractable patio enclosure may be the basic model in the Corso range, but has all the features and benefits of its more expensive counterparts. Created using separate segments of polycarbonate panels, framed by precisely crafted aluminium, it has a stunning 'arc' shape that complements any home or business premises it is attached to. An ideal solution for patios, balconies or any outside area close to your property, Alukov Corso entry enclosures are available in a number of different colours and finishes.
Multi-purpose
The elegant structure of a Corso Entry enclosure can be used for a number of reasons, even for an outdoor hot tub. As long as the hot tub or pool you wish to be protected from the elements is close enough to the property, it can be turned into an indoor hot tub easily by installing an enclosure. Should the weather change for the better, you can let in the sunshine and summer breeze by simply and quickly opening it up, as the side panels can be easily slid back along the rails they sat upon.
Convenience and elegance combined brilliantly.
Color of construction
Color of polycarbonate
Color of sliding rails