The ultimate solution
Patio enclosure CORSO Ultima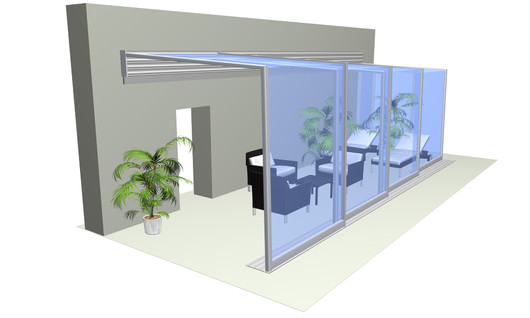 As the only company who sell this model of enclosure we offer long-term active after-sales service of our pool, patio and hot tub enclosures. Enjoy a comprehensive range of benefits that no other manufacturer can offer.
When you install ULTIMA on your patio you will get modern, architectonical patio enclosure with clean design, straight lines and vast glass panes - it emphasizes the feeling of space and fulfills the requirements of demanding customers.
The side parts of patio enclosure CORSO ULTIMA have less aluminium frames to give way to spectacular view out of the enclosure. You will feel you are in the garden yet your are comfortably sitting on your patio. This model of patio enclosure thus copes with nowadays trends in modern architecture. Since we carefully evaluate wishes and demands of our customers we were able to create this new enclosure and name it CORSO ULTIMA.
If you do posses a large patio space you can get the reinforced model ULTIMA R, with stronger roof contruction that allows us to stretch the constructin up to 6 meters wide. The reinforced model is suitable for enclosing the front gardens of restaurants, cafés and hotels or simply any public places.
Color of construction
| | | | |
| --- | --- | --- | --- |
| | | | |
| Silver | White | Anthracite | Bronze |
Other colors according to customer
Color of sliding rails