Mr John Holt, London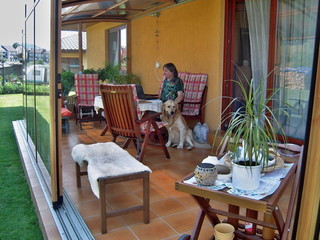 Five years ago we´ve moved to a smaller bungalow with outdoor patio. We live near London and it is raining quite a lot here. Therefore we could not use enought our outdoor patio, either because of cold weather or rain. We were thinking of the way how to enclose the patio to make it usable at least from spring to autumn. And then our friend Jerry told us about you *(Alukov UK Ltd.) He saw on a trade fair and was enchanted by the possibilities. We were crazed from the first time we first saw your patio enclosure Corso Premium. The possibility to open the whole thing is amazing !

So later on we´ve contacted your Company Manager Alzbeta and close the deal. The installation was quick, neatly done, no mess left around by the workers. Five out five stars I have to say.
I´d absolutelly recommend this solution of patio cover, patio enclosure - you name it - to anyone who likes to spend time outside but likes to have the feeling that home is around the corner.