Mary Colson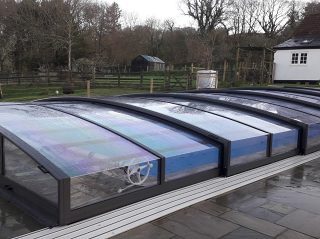 Pool enlcosure Viva
Bought pool enclosure Viva.
The enclosure looks wonderful and is excellent quality. It moves smoothly on the rail and I can easily open and close it by myself.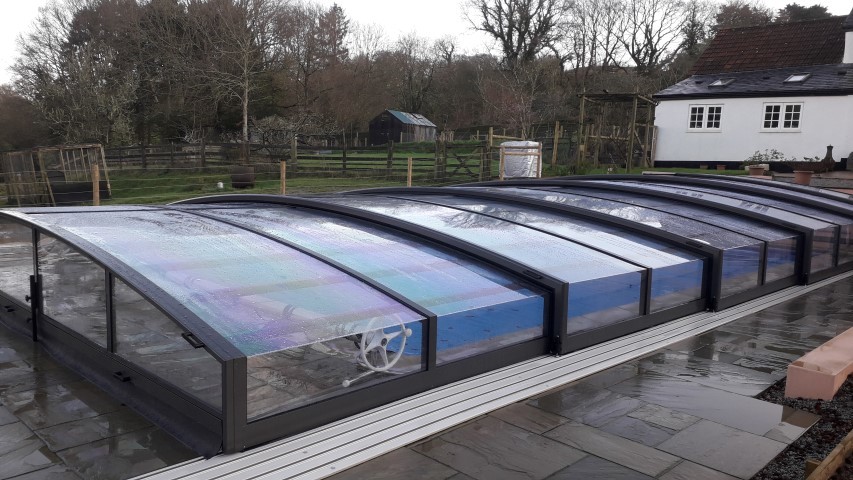 "The decision to install a pool enclosure leads to detailed research. They're expensive - how to find the best one within budget that will do the job? I spoke to several different companies and looked at the specifications of their enclosures. I kept coming back to Alukov. Aesthetically they looked the best - why spend thousands of pounds on an outdoor pool to then ruin the look with an unattractive enclosure? But they were not the cheapest. I spoke to Ivana in the office several times. She gave me all the information I asked for and gave me time to think about what to do. Once I'd decided that I wanted to take it further, Pablo came for a site visit. He addressed all my questions with a 'can do' approach. He showed me samples of the materials used and why he considered them superior to other manufacturers. He explained that all their enclosures are bespoke, so any requirement, within the confines of the design, can be met. In our case, we wanted the solar cover roller to be housed within the enclosure. He measured and produced the sizing that would meet that need. It's worth saying that another firm who came to the site could only meet this need by enlarging the width of the enclosure - making it look wrong and of course increasing the price significantly.
The other problem we had was access. The single track lane that our house is on could not take the large lorry that the enclosures are delivered in. No problem! On the day of installation, Pablo hired a small van. All the component parts were transferred from the large lorry into the van and brought down to us. That meant that the enclosure could not arrive pre-constructed from the factory as is usual. Pablo and his team had to carry each piece of the enclosure individually and then assemble on site. This meant 2 full days of work in filthy weather conditions of wind and rain. They were all amazing.
The result is fantastic. The enclosure looks wonderful and is excellent quality. It moves smoothly on the rail and I can easily open and close it by myself. We can access the solar cover as we wanted and because the rail is only on one side we have easy access to the skimmer baskets as there is no rail over them.
On price, I would say that the quality and utility of the Alukov enclosure is well worth the small extra cost over other enclosures.
In summary, the whole Alukov experience was very positive. Very good contact with the office, very good site visit and problem solving and excellent installation process.
Thank you!
Mary Colson"