Retractable roof for Rolls-Royce company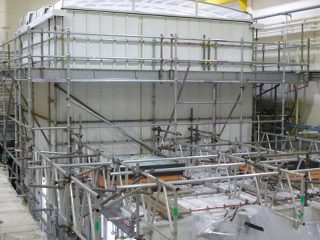 Decontamination enclosure
Rolls- Royce is one of the biggest Marine engines & Aviation engines manufacture in the world.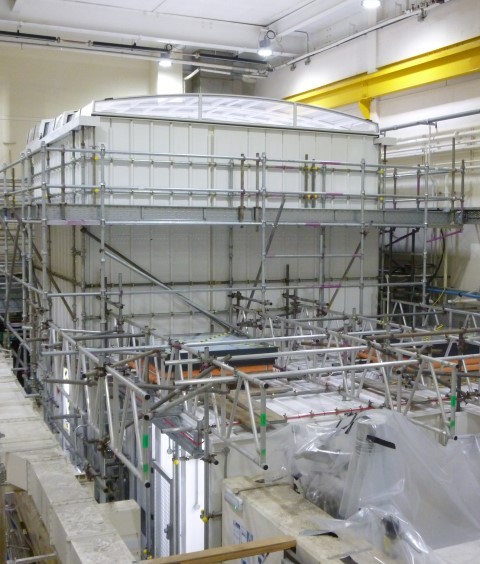 This project was very challenging for ALUKOV UK and ALUKOV technical department. Customer requires a particular type of enclosure that allows them to create a decontamination area for essential mechanical parts of vessel's engines. For that purpose customer requires a very air tide telescopic structure, so we made this enclosure considering customer requirements.
The whole Project took about year and a half to completion, different designs and cross sections were presented along with photos and very specific technical data, Technical details of this project from Rolls-Royce were submitted to ALUKOV UK and shared with Head office Technical department.
The whole idea was based on the construction of "mobile insolation area" of 6m high, this insolation cabin can actually be moved into different locations within Rolls-Royce facilities in Scotland along with scaffolding structure all around as you can see from Photo attached.
Due the extremely weight of engines and spares, isolation room has to be loaded from top using Bridge Crane, so Our telescopic structure allows loading/unloading smooth operations.
Our installation crew were there training Rolls-Royce staff how to install and remove enclosure.
"The retractable roof was made to meet the specific requirements of the project. ALUKOV sliding roof permits excellent light inside the enclosure and is easy to open and shut. Alukov provided a very comprehensive service".
Adam Critchley
Mechanical Engineer
Technical Authority,
Rolls-Royce Naval Marine